Anne L. Bartlett, United Arab Emirates University
In the last few days, a deadly conflict has erupted in Sudan's capital, Khartoum, between rival factions of the armed forces, leaving at least 180 people dead and at least 1,800 civilians and combatants injured.
The fighting, which broke out between the Sudan Armed Forces led by General Abdel Fattah al-Burhan and the Rapid Support Forces led by General Mohamed Hamdan Dagalo, saw fighter jets take to the skies over the capital and armed fighters take to the streets.
Militia vs military
The latest fighting comes as no surprise to many in Sudan, where a power struggle has been brewing for some time between the two generals, al-Burhan and Dagalo (also known as Hemedti). It has a historical tail of more than 20 years, right back to the early days of the Darfur conflict and the rise of the notorious Janjaweed militia.
From that time, Hemedti, a leader of the Janjaweed militia group from the Abbala Rezeigat tribe in northern Darfur, came to prominence for his willingness to carry out raids on villages leading to mass killings, rapes and looting on a grand scale.
What he learned very early on was that strength came from doing things that no reasonable person would do. In contrast to the army, his fighters were "free range" – able to roam around and kill people at will.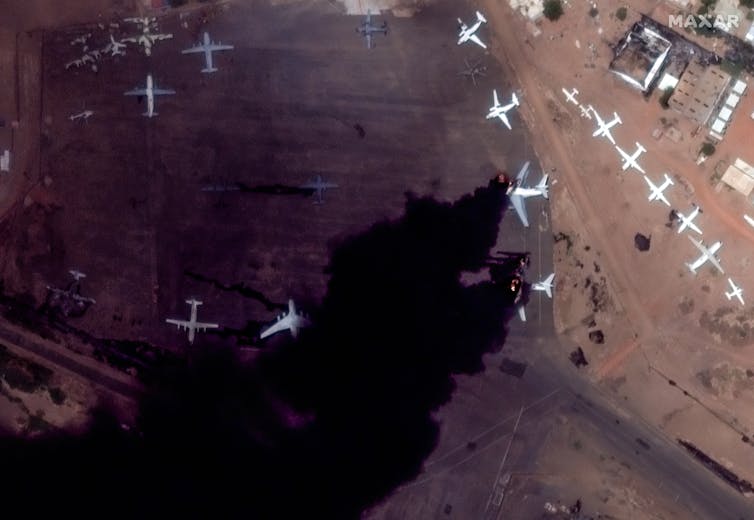 His work had another function, too. Because he was "free range" and out of a direct chain of command, it meant that he could do the government's bidding, but do it with maximum deniability.
It was this ruthless mindset and operational flexibility that brought him into the favour of the then-president of Sudan, General Omar al-Bashir, who needed an informal paramilitary group to protect him from enemies within his party, the National Islamic Front.
This militia became the Rapid Support Forces, which is currently fighting Sudan's military. It was given special status in 2017 as an "independent security force", not part of the regular armed forces.
It wasn't just al-Bashir who benefited from this relationship, either. In return for his assistance, Hemedti was given free rein to access gold mines in Darfur, which has made him immensely rich.
Contrast this with al-Burhan of the Sudan Armed Forces. A career general, he has been involved in the army since 1991, running multiple campaigns. He was in Darfur since the early days of the conflict coordinating a "counter-insurgency" campaign, but he is neither as entrepreneurial as Hemedti, nor as cashed up.
Yet, as former president al-Bashir was running into trouble at the start of 2019, Hemedti was the one to stab his former patron in the back by supporting the other side. This has never been forgotten by the Islamists of Sudan.
Al-Bashir was subsequently ousted in a coup, but the generals have never been comfortable bedfellows. While they have worked together, there have been clear cases where Hemedti has attempted to undermine al-Burhan.
The region wants more business, less war
All of these developments are taking place in what are increasingly choppy geopolitical waters for Sudan, where old alliances are rapidly changing.
While Hemedti managed to forge strong ties with Saudi Arabia and an alliance of countries in the Persian Gulf by sending soldiers to fight in the war in Yemen, there are now hopeful signs this eight-year-long conflict may be coming to an end. Fuelling this hope is a détente between Saudi Arabia and Iran recently brokered by the Chinese.
The United Arab Emirates, who hosted al-Burhan in February, has called for restraint in Sudan and for the two sides to work towards a peaceful solution to the current crisis.
Egypt, which has traditionally supported al-Burhan and the army, has also expressed its willingness to work for peace, calling for an immediate ceasefire before things spiral out of control.
Russia, which has been consolidating relations with Sudan over recent years, has also called for restraint. Russia has provided arms to Sudan's military.
For many of the countries in the region, the overall approach to Sudan can be summed up as more business, less war. The country's Gulf neighbours are seeking to diversify their oil-based economies and are looking to Sudan for business opportunities. Conflict disrupts those opportunities.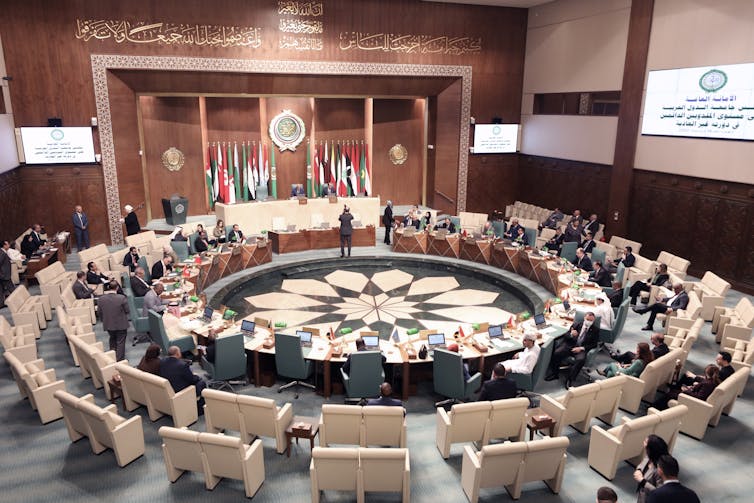 As the generals fight for power, civilians struggle for food
In Sudan itself, it is difficult to assess what the appetite is among the public for more fighting. Hemedti has declared himself to be the wronged party, and says he is against civilian killings and in favour of civilian rule.
Al-Burhan sees Hemedti as a criminal and an upstart.
Undoubtedly, both are aware that the longer the situation goes on, the more unsustainable their activities will become.
Yet, while the generals fight it out, the economy continues to decline and the cost of living soars. Since the coup, basic household goods such as bread are ten times more expensive than before, with other items increasing by up to 300%.
As one woman in the market in Khartoum pointed out in a recent Reuters report, as they fight to loot the country, we fight for food.
Anne L. Bartlett, Associate Professor, United Arab Emirates University
This article is republished from The Conversation under a Creative Commons license. Read the original article.