Kelsy Burke, University of Nebraska-Lincoln and Tyler Lefevor, Utah State University
In 2022, Republican politicians proposed over 150 bills limiting trans rights in state legislatures across the country. By February 2023, the GOP had already surpassed that record by proposing over 200 similar bills.
Many of these bills would legislate access to hormone replacement therapy for transgender individuals, making it illegal – and in some cases, criminal – for adolescents to receive such treatments. The first to make it into law in 2023 was Utah's SB 16, "Transgender Medical Treatments and Procedures," which Gov. Spencer Cox signed on Jan. 28.
Across the country, though, just over half of Americans are opposed to such laws. In a survey of 2,500 adults conducted by the Public Religion Research Institute in September 2022, only 1 in 4 strongly favored laws that prevent parents from allowing their child to receive medical care for gender transition.
Why, then, is there a surge in laws targeting medical treatments for transgender youth? We think Utah offers some answers. One of us is a sociologist; the other is a Utah-based psychologist. Both of us study Christianity, sexuality and LGBTQ communities. Understanding how religion and politics intersect can provide insight into the broader national push against transgender rights.
Evolving views
In Utah, where just over half of adults belong to the Church of Jesus Christ of Latter-day Saints, the church is a powerful political force. Church teachings often shape legislation, such as strict liquor laws.
The church's official policies consider sex to be acceptable only within a marriage between a man and woman, and binary gender is an important component of its theology. More than a decade ago, the church was a major force in promoting Proposition 8, a California ballot measure to block same-sex marriage.
Yet the church has become increasingly supportive of LGBTQ rights. In 2015, its leaders endorsed a Utah bill that prohibited housing and employment discrimination on the basis of sexual orientation or gender identity. In 2020, the state enacted a ban on conversion therapy for minors, which prohibits any intervention, other than spiritual counseling, to change a person's sexual orientation or gender identity. At the time, Utah was "the only Republican-controlled state" to have passed such laws, according to law professor Clifford Rosky.
Perhaps because of this recent support for LGBTQ nondiscrimination, in 2022 Utah's governor vetoed a law banning trans youth from participating in sports. And most recently, the church itself supported 2022's Respect for Marriage Act. This federal legislation protects same-sex marriages performed in any state where they are legal, while also protecting religious institutions from having to perform them.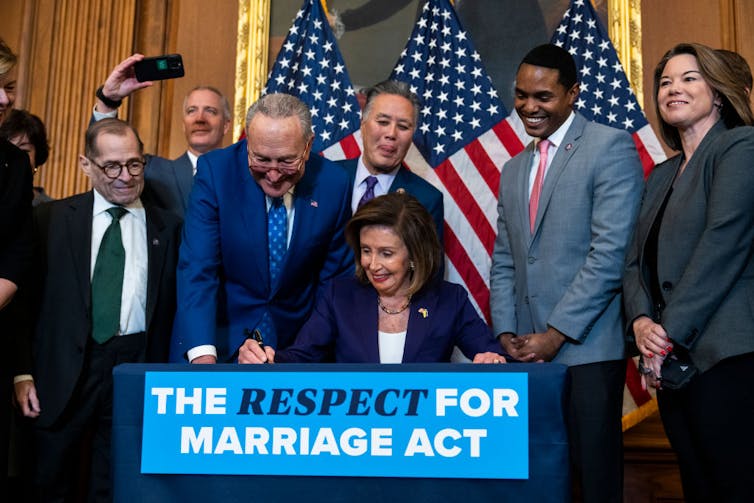 Joining the trend
The Church of Jesus Christ of Latter-day Saints formally advises against gender transition and notes that transgender people who medically or socially transition may incur restrictions to church membership. Yet it simultaneously acknowledges that some people are prescribed hormone therapy "to ease gender dysphoria" – a sense of incongruence between one's internal sense of gender and one's primary sex characteristics – or to "reduce suicidal thoughts." The church urges members to research "the potential risks and benefits" for themselves or their child.
Utah's recently passed bill, SB 16, begins by aligning with the church's guidelines of needing to understand potential risks and benefits of hormone replacement therapy. As part of the law, the state will "conduct a systematic review of the medical evidence regarding hormonal transgender treatments and provide recommendations to the Legislature."
Until that review is complete, however, the bill implements a complete moratorium on any subsequent gender-affirming medical interventions for minors in Utah.
To be clear, gender-affirmative care, including hormone replacement therapy, has been deemed a medically necessary, safe and evidence-based treatment by the American Medical Association, the American Psychiatric Association and the American Academy of Pediatrics.
Therefore, SB 16 seems unlikely to improve transgender youth's mental or physical health. Instead, we agree with other commentators that its aims are political.
The focus on transgender health care in solidly Republican Utah is representative of how the GOP has turned opposition to transgender rights into a core political issue over the past few years. In a 2022 survey from PRRI (Public Religion Research Institute), 61% of Republicans expressed support for laws prohibiting children from gender-affirming health care, compared to 46% of independents and 22% of Democrats.
Politics plus religion
But it is this combination of politics and faith – not religion alone – that creates the current recipe for restricting transgender rights.
Consider that nationally, nearly 60% of Latter-day Saints and white evangelical Protestants – the two groups with the greatest religious representation among Utah residents – support laws that prevent parents from allowing their children to receive gender-affirming medical care. This is a greater percentage than among any other religious group, including Americans with no religious affiliation.
But denominational affiliation is just one factor shaping people's beliefs. For example, among Latter-day Saints and white evangelicals who report that mainstream news is their most trusted TV news source, as opposed to outlets like Fox News or the far-right Newsmax, the percentage that supports such laws is significantly lower: 49%.
A clear lesson from this data and the recent events in Utah is that legislation limiting LGBTQ rights is not the inevitable outgrowth of conservative religious beliefs. Although the Beehive State has passed laws like SB 16, it has also passed laws supporting LGBTQ rights.
SB 16's passage perpetuated a common assumption: that conservative religious beliefs all but guarantee opposition to transgender rights. As Utah illustrates, however, this is but a partial story.
Kelsy Burke, Associate Professor of Sociology, University of Nebraska-Lincoln and Tyler Lefevor, Assistant Professor of Counseling Psychology, Utah State University
This article is republished from The Conversation under a Creative Commons license. Read the original article.